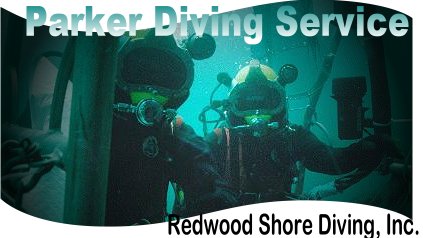 A West Coast, 24 hour emergency service company specializing in Marine Salvage, Vessel Recovery, Shoreside and Nearshore Clean Up, Emergency Vessel Inspection, Emergency Vessel Repair, Underwater Repair, Propeller Removal & Replacement, Shaft Removal & Replacement, Pollution Control and Clean Up, Thru Hull Fitting Installed/Replaced, Vessel Towing, Persistent Oil Transfer Booming, Accident/Incident Investigation, Haz Mat Certified.
This site features stories and photo galleries from just some of their ops.

The Casa Blanca, a 42' Grand Banks, was stolen from a San Francisco marina and abandoned off of Sea Ranch (an environmentally sensitive area) where she went ashore and was totally destroyed. Parker Diving Service had the remains air lifted by helicopter to a demolition site.
Lake Shasta Houseboat 1/6/04 - A winter storm caused this houseboat to sink. Parker Diving Service raised and pumped for haul out.
Safari Rose - Lake Tahoe 07/03 - The Safari Rose tore off her starboard stabilizer while leaving the Tahoe Keys. As the captain realized she was taking on water he steered her into shallow water. Parker Diving Service patched the 8' long gash, pumped her out and towed her to Tahoe Keys for haul out. It is my understanding she has been totally restored and is back in service.

If your interested in learning more about Parker Diving Service visit their website listed here, or from our links page.
Thanks to Diane Shipway of Parker Diving Service for providing us with these great photos and information. All photos on this page are the property of Parker Diving Service and cannot be reproduced or used without prior consent.