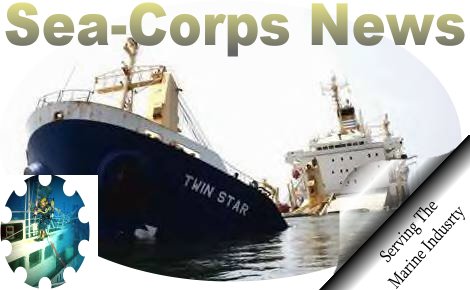 Sea-Corps news brings you the latest news, updates and information around the marine and salvage industry. We cover the Great Lakes, Gulf of Mexico and both East and West Coasts.
Great Lakes & Ocean Shipping Commercial Diving Oil Platforms Salvage Updates and more...
If you have news, please send your submissions to: news@sea-corps.com We are always looking for field reporters, press releases and "those in the know." Have news? Contact Sea-Corps!
UNTIL WE GET A GOOD BASE OF CONTRIBUTORS TO OUR NEWS PAGE, NEWS WILL BE SLOW TO START. THIS NEWS PAGE IS JUST GETTING OFF THE GROUND THIS WEEK (4/10/06)
All contributors will receive proper photo and news credit for their submissions.
4/10/06
Motorboat sinks - 110 feared dead. Accra, Ghana. An overloaded boat transiting Lake Volta sank on Saturday with approximately 150 persons on board. Only 40 passengers were rescued, leaving 110 feared drowned. Passengers were being ferried across the lake to the mainland after their island homes were designated as a natural reserve. Lake Volta is located in West Africa and is the worlds largest Lake.
Cruise boat Sinks - 48 lost. Bahrain. A cruise boat carrying up to 150 people capsized Thursday night in the Persian Gulf off the coast of Bahrain. At least 48 bodies were recovered. American divers and a U.S. helicopter aided the rescue effort.
4/11/06
Port Authority Announces Second Round of
Neighborhood Economic Development Funds
Toledo, Ohio — The Toledo-Lucas County Port Authority will make available $350,000 to economic development agencies and community development organizations in Lucas County for the specific purpose of neighborhood economic development according to James H. Hartung, President of the Port Authority.
The funds will come from the Port Authority's levy passed by Lucas County voters in November 2004. As part of that campaign, the agency promised to support neighborhood economic development as part of its economic development mission. This is the second year for the program which awarded $338,000 to 7 agencies in 2005.
To be eligible to receive funding, applicants must be a 501(c) 3 organization in good standing and must demonstrate the capacity to engage in economic development at the neighborhood level. Priority will be given to projects in areas of economic distress such as Community Reinvestment Areas and areas eligible for HUD Slum & Blight designation, Hartung added.
The funds will be used for "bricks and mortar" economic development Hartung pointed out.
"These funds will not be used to cover administrative costs," said Hartung. "The Port Authority is proud that it can point to tangible, capital projects and show taxpayers where they invested their money. That won't change under this program."
The deadline for the second round of funds is May 11, 2006. To obtain more information and a PDF version of the application, log onto our website and click on the hot link provided, or contact the Port Authority at (419) 243-8251 or the LISC offices at 419-242-3836.
www.toledoportauthority.org
4/12/06
"Ghost Ship" to be sunk - Salvage crews from the Australian-based Cairns Company have begun preparations for the sinking of a 250 foot "ghost ship". The vessel was found adrift in the Gulf of Carpentaria last month. A representative from the Australian Maritime Safety Authority say they have not been able to establish where the vessel came from or why it was abandoned.
Salvage crews from a Cairns owned company are in the process of cleaning the vessel of any dangerous, loose or toxic debris that might break free from the vessel once it is scuttled. The "ghost ship" will be sunk in the Coral Sea off the north coast of Queensland later this month.
Archived News
April 2006 May 2006 June 2006 July 2006